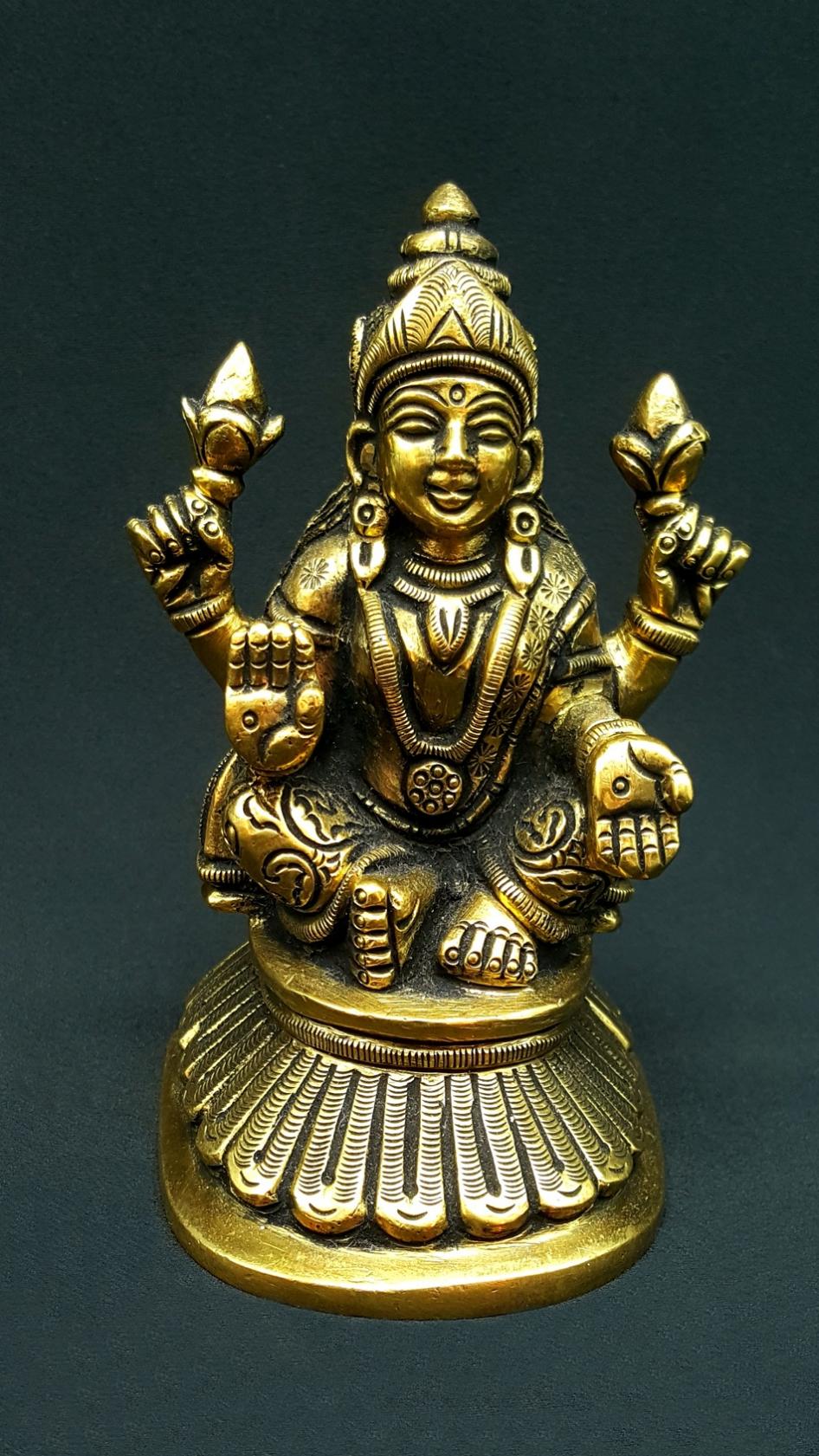 Dana Lakshmi statue
The goddess of wealth
€

190.00
---
Statue of Lakshmi sitting in the position of Pralambapadâsana: She exudes great serenity. The mudras, gesture of the hands evoke the gift, the blessing and the absence of fear. More...
Height : 4.01'
Weight : 1.23 lbs
Sacred Art
Semi-wax
Origin : Dehli - India
Free shipping in UE, Norway and Switzerland
Description
History


Lakshmi is the Shakti, the wife of Vishnu: she symbolizes prosperity, wealth, fertility that she spreads over the world. Alongside Vishnu who ensures the maintenance, the balance of the world, which gives it the conditions for harmonious development, she represents fertility, abundance, happiness that flourishes when all conditions are met. Together, they form the ideal couple guaranteeing balance and a fertile space.

She also embodies beauty, plenitude, a resplendent, blossoming form.

Her mount is the owl, which symbolizes wisdom, the ability to see in the darkness, but it is rare that it accompanies her because it can also symbolize bad luck: we will see it rather with Garuda, the mount of Vishnu.

Laxmi takes many forms and postures, however, She is represented in eight main forms including that of Dana Lakshmi: the wealth.




Lakshmi, in this statue represents wealth, benevolence...


Posture Lakshmi, seated, in the position of Pralambapadâsana, said to be in "royal ease", is in deep meditation, in the primordial state, the absolute beyond (or within) the world of forms.

Gesture Two arms are raised, holding a lotus in each hand. The lotus is the primordial symbol of Lakshmi: it symbolizes the maternal breast (origin of life), wisdom: knowledge that leads to awakening, purity but also transformation (from a swampy environment beauty is born, from what is buried beauty emerges), peace. It is also an allegory of the elevation to the sky, of the passage from darkness to light.

The other left hand makes the gesture of protection (Abaya mudra) while the right hand makes the gesture of giving, Varadra mudra which indicates that the divinity gives without counting, pours out its benefits to all.

Pedestal The gods never touch the ground: the round seat is specific to deities in meditation.

Jewels Magnificent necklaces, earrings, bracelets and a richly embroidered ornament help to establish her royal stature.

Headgear Magnificent tiara-shaped crown (Kiritamukuta) - a great symbol of royalty, tall and slender in a conical shape, it amplifies its royal and celestial nature, giving her an appearance above mere mortals.



Inspired by your research