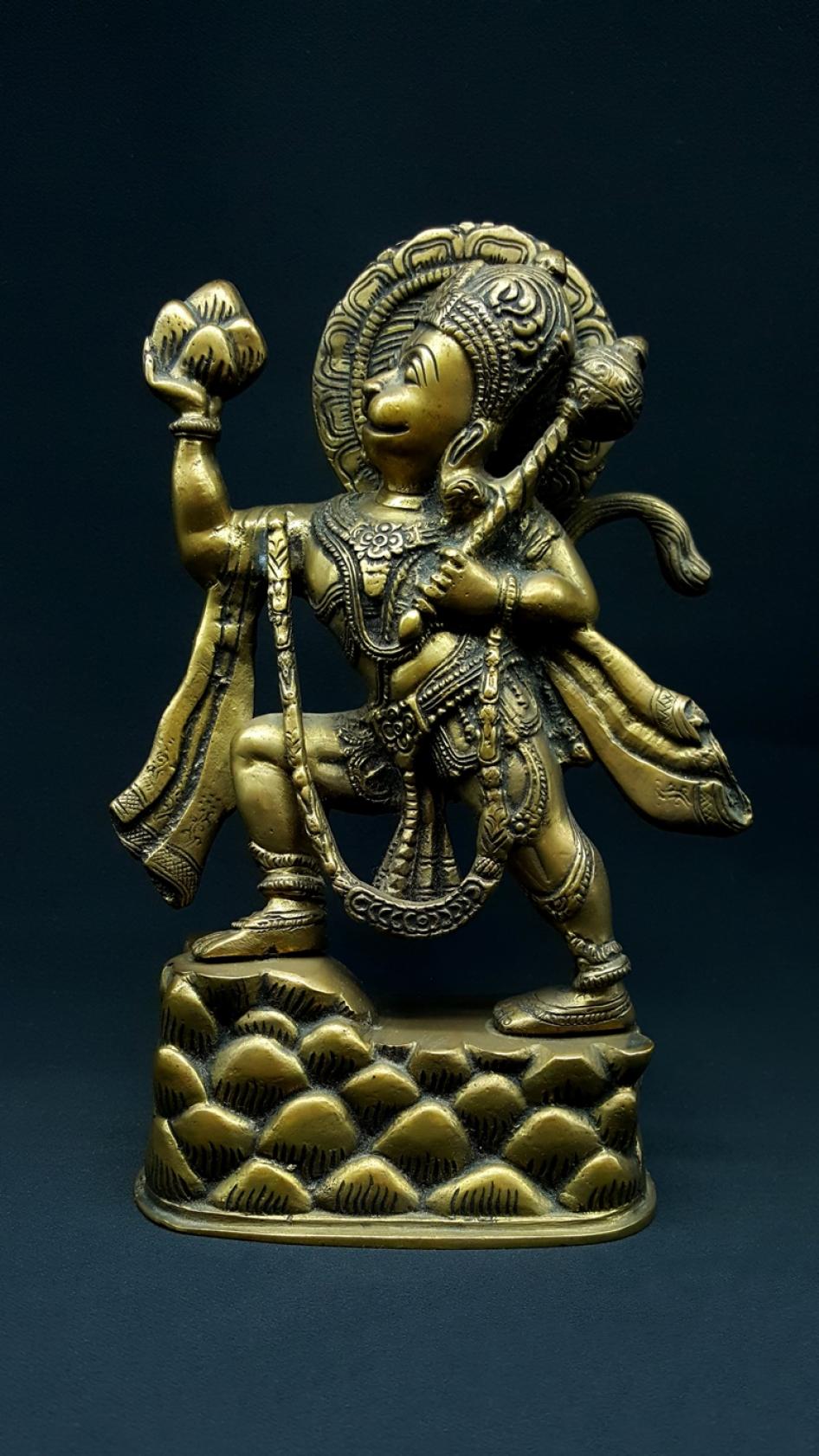 Hanuman Wearing Gandhamadana
The Valorous
€

350.00
---
Statue of Hanuman: he is the great warrior and the great servant par excellence. To save Lakshmana, he brings the Vishalya Karani herb back to Lanka from the Gandhamadana mountain in the Himalayas. More...
Height : 7.67'
Weight : 2.2 lbs
Sacred Art
Origin : Delhi - India
Free shipping in UE, Norway and Switzerland
Description

Hanuman, the Monkey God, is renowned for his strength, valor and bravery. He is very popular in Indian villages.




History


In the Ramayana, to save Lakshmana, Hanuman had to bring the Vishalya Karani herb to Lanka from the Gandhamadana mountain in the Himalayas. Ravana, the enemy of Rama mortally wounded Lakshama, his consort who had to be saved before sunrise. Sushena, the great physician, was sent for, and declared that only the herb Vishalya Karani brought from the Gandhamadana mountain in the Himalayas could cure her. Sri Hanuman, blessed by Vayu to move faster than the wind, leapt into the sky and headed north: after slaying the magician Kalanemi and capturing the Sun God (whom Ravana had forced to rise earlier and he hid himself, his chariot and his horses under his armpit), he brought back the whole mountain because he could not find the herb. It was then quickly identified by the doctor, Hanuman brought the mountain back to the Himalayas, released the sun and Sri Rama defeated Ravana that day.

This statuette of Hanuman symbolizes: the faithful warrior, the abnegation.

The posture is clearly dynamic, in profile, the right leg raised, resting on the Himalayas indicating a representation of Hanuman in action: the values of combat, abnegation, fidelity are in the spotlight. Hanuman reminds us that the spiritual path also involves action.

His arms each carry a different attribute:

The Club Gadâ, primitive weapon, incarnation of the brute and exceptional strength of Hanuman but also of the mastery of instinctive, physical and natural forces.

The mountain: representation of the Himalayas and healing.

Adornment Hanuman is dressed in simple clothes, it is especially his many jewels that attract his rank and his nobility. The swirling sides of his stole accentuate the dynamic aspect of the sculpture. He wears a magnificent, richly decorated tiara: Kiritamukuta - symbol of royalty.

His head is crowned with the wheel of fire: wheel of the universe which symbolizes the cycle of life: birth/destruction. It also represents the fire that illuminates, fertilizes or destroys ignorance.



Hanuman, the warrior, is invoked when it is necessary to face challenges that require many qualities and means. But Hanuman is also honored for his nobility and his great wisdom, in short a great disciple.
Inspired by your research