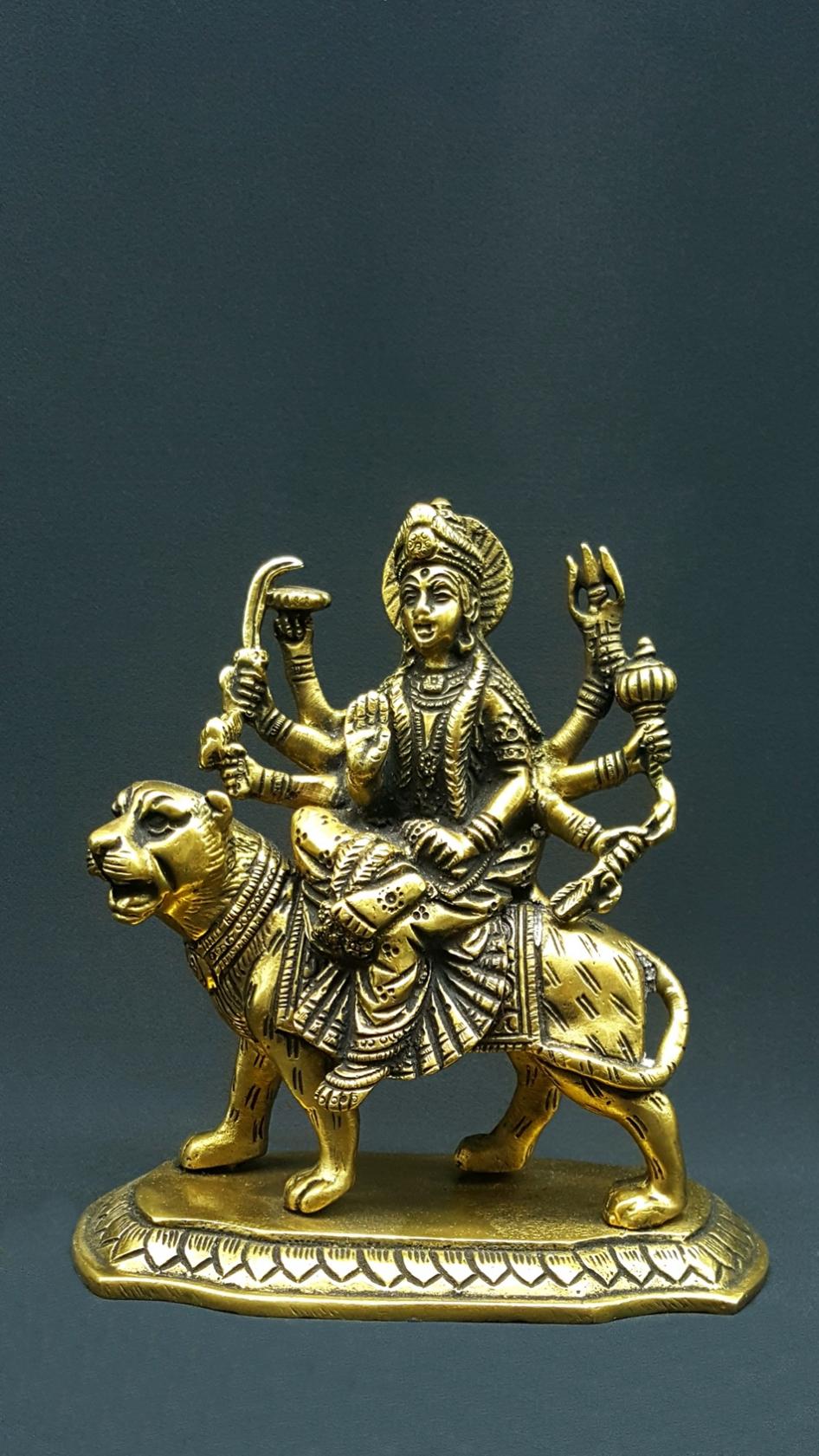 Durga Simhavahîni Statue
She who rides the lion
€

190.00
---
Durga is one of the forms taken by Parvati, the wife of Shiva, in her destructive form. Pure symbol of the divine manifested, She combines strength and beauty. More...
Height : 5.12'
Weight : 2.05 lbs
Sacred Art
Semi-wax
Origin : Dehli - India
Free shipping in UE, Norway and Switzerland
Description

Durga is mostly worshipped for her power, her ability to defeat demons, especially Mahishasuramardini. But it is mostly about our inner demons, our beliefs, conditionings, fears that obscure our clairvoyance.
The faithful, the most unfortunate then take refuge in her because she will generously bring them all her protection, compassion, abundance...
This statuette of Durga, the unattainable, symbolizes power, supreme knowledge, the absolute.



Position Durga is seated, left leg bent (such as the lotus position) while the right is straightened, knee bent, hand or elbow resting on it. This is the relaxed position par excellence, of "royal ease".

At ease while riding the lion: the qualities of the mount are representative of those of the deity: strength of Nandi for Shiwa, grace of the swan for Saraswati ... and their weaknesses reveal what we must master the obstacles we must overcome or the instincts we will have to dominate.

Moreover, there is also an interdependence between the deity and her mount: Durga needs her mount, the lion, to defeat demons and to move.

Thus the lion is obviously an allegory of power, strength, sovereignty and therefore of protection (justice: it is thus present on the coat of arms of India). But the belly and lazy lion (Kumbhodara)that must be mastered figure greed, which leads to lust, attachment to the senses.

Note: her peaceful face: no fury in her features, Durga always appears beautiful, at peace, serene.

Durga is represented here with eight arms with 6 weapons provided by the gods:

Left
The conch (the primordial sound) given by Vayu, god of Wind
The trident provided by Shiva
The bow and arrows
Right
The wheel or disc (the sun, the light) given by Vishnu
The dagger
The sword given by Yama, lord of death

The weapons, numerous and diverse, indicate that to triumph over an ultimate threat, one must combine many qualities both physical (strength,...) but also spiritual.

The right hand makes the gesture of protection.

Head Cover The tiara-shaped crown (Kiritamukuta) - a symbol of royalty - covers her long hair that falls to the lower back.

Jewelry Many jewelry that enhances her port of goddess.


Inspired by your research