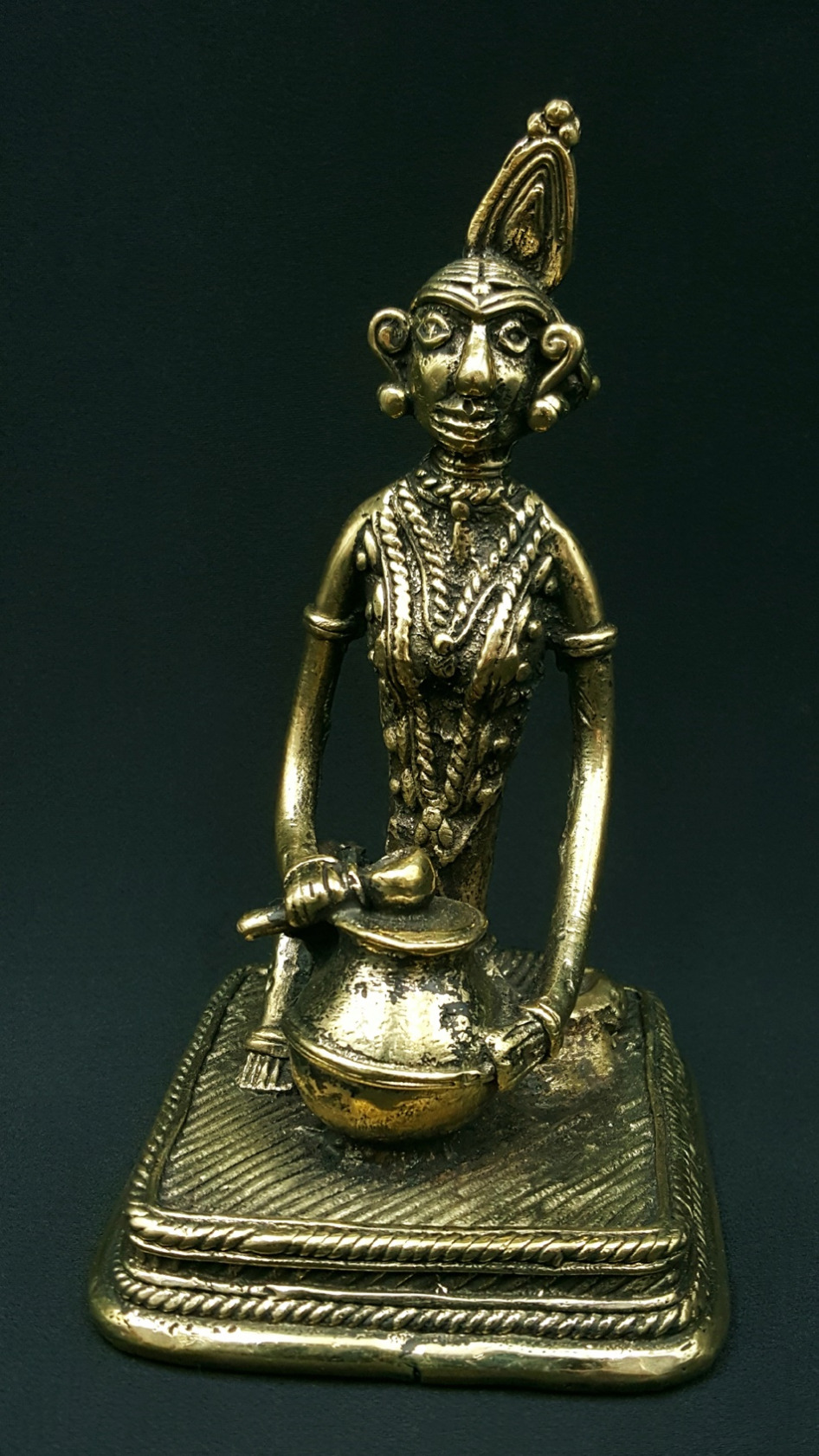 Woman sitting in front of her jar statue
Everyday life
€

160.00
---
Bastar tribal sculpture from South India where the artist represents a scene from everyday life: food and water. Beauty in everyday life. More...
Height : 5,07'
Weight : 1.08 lbs
Tribal Art
Lost wax casting - copper alloy
Origin : Chattisgarh - India
Free shipping in UE, Norway and Switzerland
Description
Indian tribal art
The tribes, practicing the Dokra art, originate from the Bastar district, in South India (today located in the state of Chattisgarh), they emigrated several centuries before and settled almost everywhere in India from North to South.
Most have kept their tradition (culinary art, clothing, festivals) and their animist religion.
Dokra art


This traditional and artisanal art has not changed for millennia (more than 4000 years) and the technique used is always that of lost wax: a coarse clay model is made and then covered with wax by the artist who will give it its final form with its details. The whole is again covered with a clay mixture and then heated in an open hearth where a copper alloy will be poured. see Blog

Objects produced by Dokra artists can be of a usual nature: cup, candle holder ... musical instruments (brass), or artistic such as jewelry, animals: horses, elephants, turtles ..., statues of men and women representing scenes of daily life and Hindu deities adopted by the tribes: Ganesh, Lakshmi, -



This woman performs a task, cooking, both common and banal, but also most important for the life of the family. The most comfortable posture in India is the cross-legged seat or on the heels, young and old have no problem adopting it thanks to daily practice. The earthenware jar is still a primordial utensil today, in many families in the countryside where plastic has not yet replaced the many potteries. It has the advantage of keeping water cool and free from pests and it is made locally.

The artist has chosen to adorn this woman with many necklaces.

The bun hairstyle is typical, a feathered headdress adds a festive touch to this scene of everyday life.