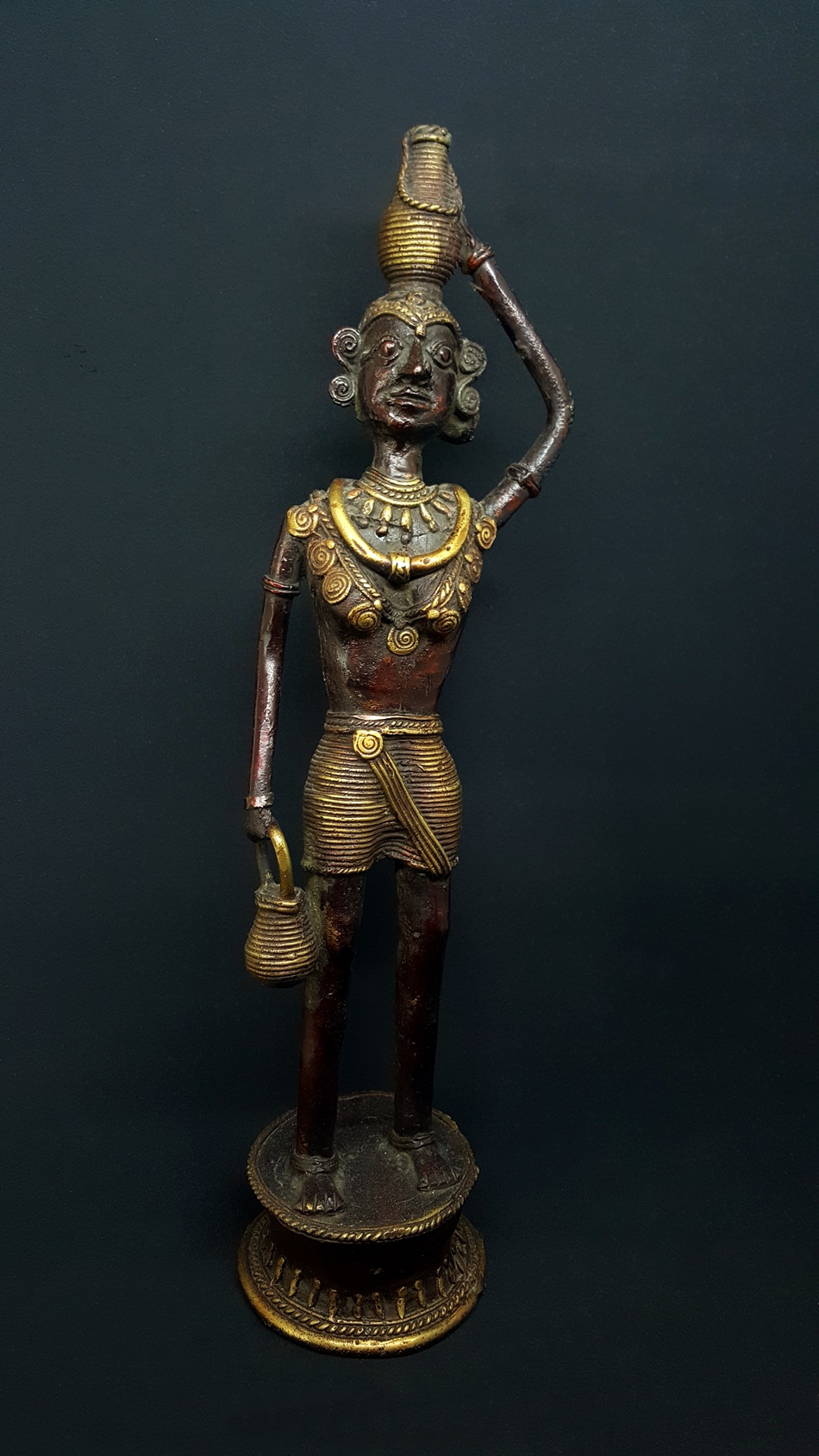 Bastar Woman with Tumba Statue
Back from the river
€

250.00
---
The simplicity of the features, of the body, the hieratic aspect of the posture, of the glance as well as the predominance of the jewels plunge us in the heart of the tribal world. More...
Height : 14,48'
Weight : 3.35 lbs
Tribal Art
Lost wax casting - copper alloy
Origin : Chattisgarh - India
Free shipping in UE, Norway and Switzerland
Description
the Bastars people
Bastar is a district of South India in the state of Chattisgarh, it was an independent kingdom from the 14
th
century until its integration into India in 1948.
The tribal population represents 70% of the population of the Bastar district: the main tribes are the Gonds - the Abhuj Maria and the Bhatras. Most have kept their tradition (culinary art, clothing, festivals) and their animist religion.
The tribes still live mainly from agriculture and resources drawn from the forest (hunting, medicinal plants, wood ...).
Some tribes have dedicated themselves to brass statues art for over 4000 years. This art, which is also found in the states of Madhya Pradesh, Odisha, West Bengal, Bihar ... is called Dokra.
Dokra art: a thousand-year-old knowledge in the manufacture of statues


This traditional and artisanal art has not changed for millennia (more than 4000 years) and the technique used is always that of lost wax: a coarse clay model is made and then covered with wax by the artist who will give it its final form with its details. The whole is again covered with a clay mixture and then heated in an open hearth where a copper alloy will be poured. see Blog.

Objects produced by Dokra artists can be of a usual nature: cup, candle holder ... musical instruments (brass), or artistic such as jewelry, animals: horses, elephants, turtles ..., statues of men and women representing scenes of daily life and Hindu deities adopted by the tribes: Ganesh, Lakshmi ...

Div>

Posture Standing with her feet firmly planted on the ground, this woman returns from the river with her Tumbas (made from a vegetable) filled with water. The bust is straight, the knees are barely drawn, reinforcing the feeling of straightness: this woman gives off an impression of strength despite the difficulty of the task.

Jewelry Several necklaces follow one another in cascade and end with a very long necklace made of coins which descends to the level of the navel and elegantly masks his chest.

Despite the daily physical labor, this woman is adorned with her most beautiful jewelry.
Inspired by your research