Even today, the Dokras largely live near or in the heart of the forest and live in harmony with nature, using its resources without over-exploiting or destroying them.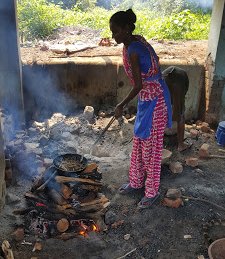 div>
Preparing the wax is primordial for a perfect modling of statues
They do not raise bees but use the wax of wild swarms. Once collected, the wax is dried, then crushed and reduced to powder. Alone it is too fragile, brittle, it cannot be used as it is: the Dokras therefore make a mixture with incense powder and charcoal reduced to dust. The wax mixed with water is heated then the incense and charcoal are added: the right proportions are the result of ancestral knowledge which is perpetuated orally. Likewise, cooking time is a matter of experience: the person in charge of the operation takes a few drops of the mixture, cools it in his hands, tests it to check the quality of the texture. The waxy mixture must be flexible, malleable, have a certain elasticity specific to the artist's work. Once the right consistency is reached, the preparation is filtered to remove any unwanted impurities that would harm the consistency of the material, through a cotton cloth, in a bowl filled with cold water: a wax plate forms on the surface of the water.