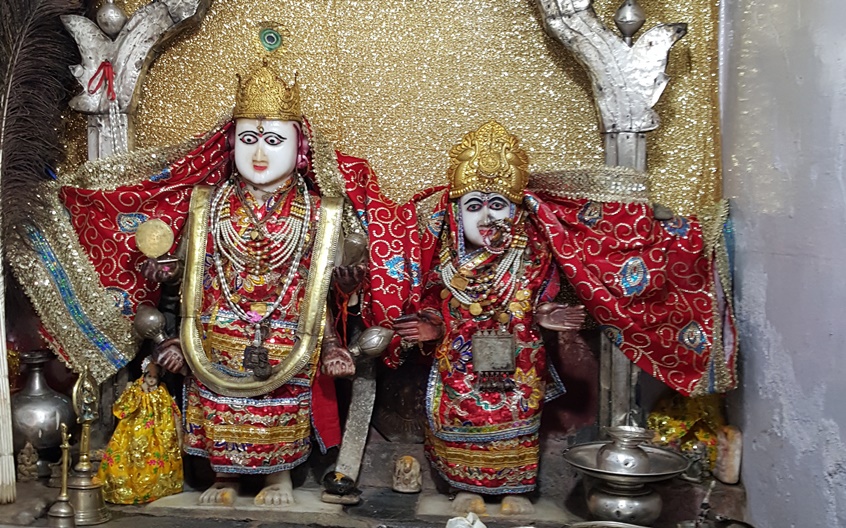 Bertrand Bellaize, 02 May 2020
Sacred art: the attributes of the Hindu gods in Indian statues 1

In addition to the postures, mudras and many other aspects found on statues, paintings ... the attributes will give us valuable elements of understanding the message delivered by the Hindu deities.

These attributes, whether they are associated with a particular god or have a general value, describe qualities, powers. The image makes it possible to directly touch the viewer without going through the intellectual centre, especially in a particular cultural context: thus each epoch, each part of the world has its own symbols even if some of them have a rather universal value. This is the case of the geometrical forms (yantras in India) used all over the world, as well as the sword or sabre symbolizing combat, death but above all justice, the ability to see. However, many attributes are specific to the Hindu religion and require some explanation.
Moreover, several attributes are peculiar to certain deities, such as the conch for Vishnu or the trident for Shiva, however all their avatars and various manifestations may also bear them.





The weapons

Bow and arrows
Dhanus and Bana: the arrows represent our senses, our ability to perceive (so it is with the 5 arrows of Kama, the god of love). They are thrown by our mind (the bow) and require a great concentration, an ability to tame our thoughts: the sharper they are, the more they reach their target, the better our perception of reality beyond illusion, ignorance. Arrows can also represent the feminine part and love while the bow, the masculine aspect and death, the whole being inseparable.
Sometimes, the bow takes a name or a particular shape to a god such as Shiva's bow formed by a seven-headed snake or Kama's bow made from a sugar cane stem whose string is made of bees.

Banner
Dhvaja means "that which stands ». The banner is found in front of and in temples in India, it is often made of metal, copper or brass. It symbolizes victory, the divine presence but also the wind, the breath of life itself.
In the hands of a deity, the banner can become a formidable weapon.

Shield
Khetaka, sign of protection, used by deities fighting demons and not possessing invincible weapons.



Knife
Churika finds herself in the hands of wrathful deities such as Durga.

Disc or wheel
Chakra: the Chakra has many meanings and symbols: round, circle, sun: it can be represented as a disc, a wheel with spokes ... The wheel represents the cycle of birth and death which is an integral part of life and marks the continuous change.
The Chakra also symbolizes the sun, the light, the fire that allows us to destroy ignorance, to see pure reality: thus the gods use it as a weapon to destroy the demons that are an archetype of our false beliefs, of the mind.



Sword
Khada, symbol of wisdom: it cuts through ignorance, dissolves the darkness that obscure the mind. It frees us from the bonds of attachment (from everything that separates us from our ultimate nature, the absolute: beliefs, inner demons, material goods...).
The presence of a sword therefore marks intelligence, clarity of mind.
The Sword (Khadga), the Axe (Parashu) which is the specific attribute of Shiva, Ganesh or Skanda, have very similar meanings.

Lightning
Vajra is materialized by a throwing dagger with one or more points on each side. It is a fearsome weapon, symbol of invincibility, of divine power: the lightning that flashes destroys everything.
It is also compared to a diamond because it indicates a sharp mind, an ability to see clearly, to act with determination and clairvoyance but also indestructibility and purity.



Spear (or javelin)
Shula represents the energy of the God, so the spear of Skanda (Ganesh's brother and God of War) is called Shakti which is the energy. It also incarnates fire (it is the weapon of Agni, god of fire) and virility: the meaning can vary if it ends with one or more points, especially for the famous trident of Shiva: its three points have many interpretations and especially that of the three aspects of the divine. The Trimurti: Brahma the creation, Vishnu the maintenance and Shiva the destruction and renewal. And also the 3 gunas, the 3 planes physical, emotional and spiritual ...

Club
Gadâ, primitive weapon, embodiment of brute force but also of the mastery of instinctive, physical and natural forces.

Weapons thus represent essential attributes of the deities: they symbolize the power of action, the ability to overcome ignorance, inner demons.

Sources
The Book of Hindu Imagery: Gods, Manifestations and Their Meaning : Eva Rudy Janssen
Un et multiple : Sarah Combe
Mythes et dieux de l'Inde : Alain Danielou
Petite Encyclopédie des Divinités et Symboles du Bouddhisme Tibétain, Tcheuky Sèngué