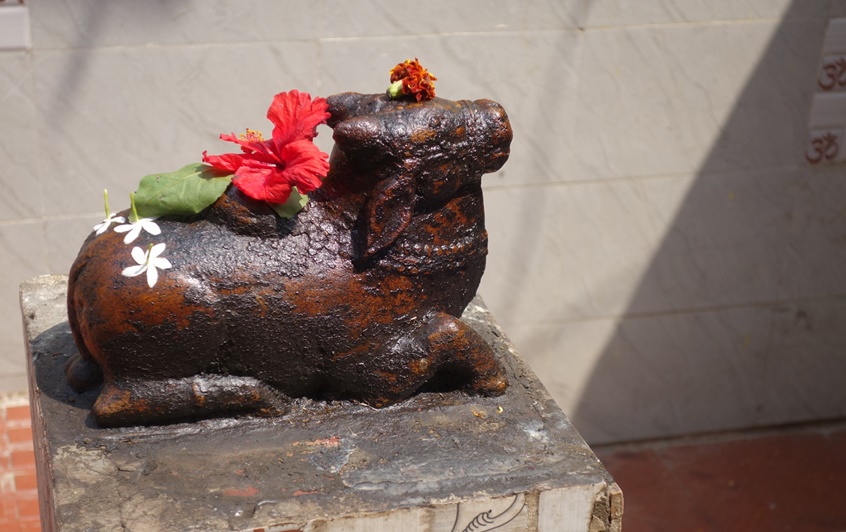 Bertrand Bellaize, 02 June 2020
Indian statue art: the Hindu gods mounts


The mounts (Vahana) of the Hindu gods are among the most striking elements of sacred statues in India. The swan of Brahma or Saraswati, the rat of Ganesh, the bull of Shiva, the eagle of Vishnu ...


The mounts: both an emblem and a symbol of the divinity.

An emblem because the mount alone can represent the divinity: the sculpture of Nandi, the bull can represent Shiva alone. It becomes the personification because it can symbolize it alone.
The qualities of the mount are representative of those of the divinity: Nandi's strength, the grace of the swan... and their weaknesses reveal what we must master, the obstacles we must overcome or the instincts we must dominate: for example the vanity and arrogance of the peacock.
On the other hand, there is also an interdependence between the deity and its mount: Durga needs its mount, the lion, to defeat the demons and to get around.



But more in depth, the history of the mounts shows us, in some cases, the intimacy existing between the divinity and this one: The demon Gajamugasuran was first the enemy of Ganesh. Among the legends that tell of the origin of Mushaka, the rat, one of them tells us that this demon by dint of penance acquired the blessing of Shiva which made him very powerful. From then on, he caused a lot of trouble among the Rishis and other deities who then called for Shiva's help. After a long battle in which the demon turned into a rat to attack him, Ganesh defeated him and sat on him. Gajamugasuran recognized his defeat, pledged his allegiance to Ganesh and became his faithful mount. Thus the qualities of the elephant and that of the rat, its opposite, complement each other wonderfully (macrocosm and microcosm). Ganesh will use its mount to move around, to go where he cannot sneak.

In another legend, Ganesh fought the demon Gajâmukha and at the end of a bitter battle, Ganesh, dispossessed of its weapons, broke one of its tusks and threw it at Gajâmukha who turned into a rat. Thus Ganesh had to amputate a part of itself in order to defeat and not destroy its enemy but to transform him, tame him and extract the best from him. It is a question of transmuting what appears to be negative in order to make an ally out of it.
The way in which the relationship between the mount and the divinity is represented also teaches us a lot about its meaning: does the divinity straddle the animal, is it accompanied, supported or does it appear alone?


Here are the main mounts and their meanings:

The eagle figures strength, even ferocity, but above all the ability to move at high speed: it is a solar animal that represents enlightenment. When it takes on a human body, it is named Garuda and becomes Vishnu's mount, combining the speed of light with the ability to move from one world to another. It can give us wings.
The dog, it accompanies Rudra or Bhairava, forms of Shiva in its most terrifying form. It then represents impurity, the guardian of hell.
The swan indicates knowledge and discernment, the ability to separate the good from the bad. Legends indicate that the swan is able to separate milk from water! Because of its shape, it evokes grace and beauty.



The lion is obviously a symbol of power, strength, sovereignty and therefore protection (justice): it is thus present on the coat of arms of India. But the lion (Kumbhodara), a lazy lion, also represents greed, which leads to lust, to attachment to one's senses.
The peacok, majestic bird with magnificent plumage, strutting around: it represents appearance, superficiality, vanity, in short, gross ignorance. Saraswati riding it represents knowledge.



The rat needs to be dominated by Ganesh because otherwise it destroys wealth, spreads disease: it symbolizes lust, greed. Tamed, it symbolizes intelligence, the ability to sneak in everywhere, to leave no nook abandoned, to explore every space: it will unearth all the riches, in the sense of attachments, that the faithful want to keep, especially the most precious ones well maintained in the recesses of our mind.



The bull symbolizes strength, power and ignorance (ego, individuality) but also all the instinctive forces of nature. Shiva straddles Nandi, i.e. it masters the impulses (it is then called Pashupati) and in particular the very powerful one of sexuality. It uses them to transcend, to go beyond the body form (of which the sexual centre is a primordial aspect). In a broader way, it is the attachment to materiality that is represented by the bull.
On the other hand, Nandi, alone, represents Shiva, i.e. the absolute, bliss. Its name means "full of joy". It embodies justice, righteousness.
The tiger destructive power, strength, ferocity. And it is also a symbol of royalty (considered by many peoples as the king of animals).

The "creators" of Hindu sculptures and murtis (images) more generally have tried to transmit, through direct vision, the absolute or at least one of its manifested forms with a certain number of characteristics. It is a teaching that does not require words, which directly targets the heart, however, especially for us Westerners, it may be necessary to understand the symbols used in these sculptures: the mounts are a primordial element as well as the posture of the deity, its attributes, its clothing, its adornment ...

Sources
The Book of Hindu Imagery: Gods, Manifestations and Their Meaning : Eva Rudy Janssen
Un et multiple : Sarah Combe
Mythes et dieux de l'Inde : Alain Danielou