Images and statues in all religions have been of paramount importance everywhere and at all times: they have been used since the appearance of a spiritual tradition in conjunction with the use of speech, songs, dances and ceremonies.
Image and statue: a direct transmission
The image is important for several reasons: first of all, it fills the absence of written language, and secondly, the impossibility for the majority of people to learn to read, which is reserved for an elite (members of the clergy, rulers, etc.). However, the main reason is the very powerful educational impact transmitted through it: the message of a picture will be much faster and deeper than words.
If we are open, receptive and attentive, an image or a sculpture, a painting touches our being in depth, directly, without going through the intellectual centre which is not only very slow but can only assimilate one notion after another (binary logic) and very often interprets all the data given to it according to its own experience and conditioning : parental environment, school education, social and cultural background, time, country, diverse and varied experiences... We have all experienced misunderstandings related to the meaning of a word when we think we are talking about the same thing. If I mention the word apple, the meaning is almost the same for everyone, it is already more complicated for book or car but what about the word law, power, freedom, conscience...
Hence the importance of the image in all religions and spiritual transmissions (except for Islam which, however, has developed a very refined art of calligraphy and mosaic) to transmit a teaching directly to the intelligence of the heart, through the emotional centre, to use the terminology used by Gurdjeff.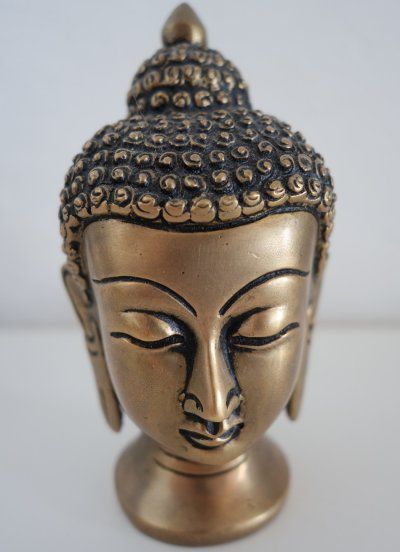 Sacred art thus serves as spiritual nourishment, accessible to all: it can possess a transformative power. This is why, in the West as everywhere in the world, pious and symbolic images and statues decorate the walls of houses and places of worship (churches, sanctuaries, consecrated places outside, etc.). Of course, the image has its own form everywhere in the world whose value of transmission, of impression is linked to the culture, to the historical period... Christ on the cross does not have the same impact in the West and in Asia, as does a Buddha.... However we can be touched everywhere, whatever our culture, by a sacred work.
L'Ishta Devata : divinity of choice
In India, every household has its own Ishta Devata, its own chosen deity, the one it honours in particular: this Ishta Devata can be specific to an individual, a family, a village, a region, a caste... It often dates back a long time and its history is passed down from generation to generation. However, it can be a recent choice and everyone is free to determine it according to their aspirations, feelings and needs.... Each Indian therefore has in his home an image, a statue or simply an object (stone, cloth...) of his Ishata Devata which symbolizes the divinity to whom he will address his prayers and to whom he will practice his daily rituals (pujas...).
Each Hindu deity represents a facet of the Absolute (that's why it's said that India has more than 30 million gods, each of which has several names with different characteristics: a way of representing what can't be represented or understanding what has no form), so there's bound to be an Ishata Devata that corresponds more precisely to us! Saraswati will be able to be an artist's chosen because she's the goddess of knowledge and the arts, yogis will be able to adopt Shiva, Hanuman for soldiers....
An image, a sculpture in a house is not only the vector of recollection during a privileged moment, but above all a factor of reminder at any moment of the presence of divine reality. The quality of the realization of the sacred work of art will also play an essential role in transmission: in front of a Madonna, a Buddha, a statue of Parvati, one marvelously executed Shiva... it is possible to feel a great inner peace, a form of serenity, joy.
Everything is codified in the making of a statue or a sacred image
The choice of the posture of the deity, his size, the position of the head and hands, as well as the ornaments, the headdress... nothing is left to chance... "In the whole statue there was nothing fortuitous, nothing that was meaningless" Gurdjeff. Everything is codified.
The artist who makes a sacred work of art fades away: he does not produce a personal work, emergence of his history, his tastes, his unconscious... On the contrary, he is an instrument, the tool of transmission. This is why in India sacred works, statues... are not signed just as cathedrals, stained glass windows, icons... were not signed.
Even today, in India, sacred and tribal statuary arts and crafts perpetuate this tradition even if nowadays an industrial production exists as well as a subjective representation of the deities by certain artists.