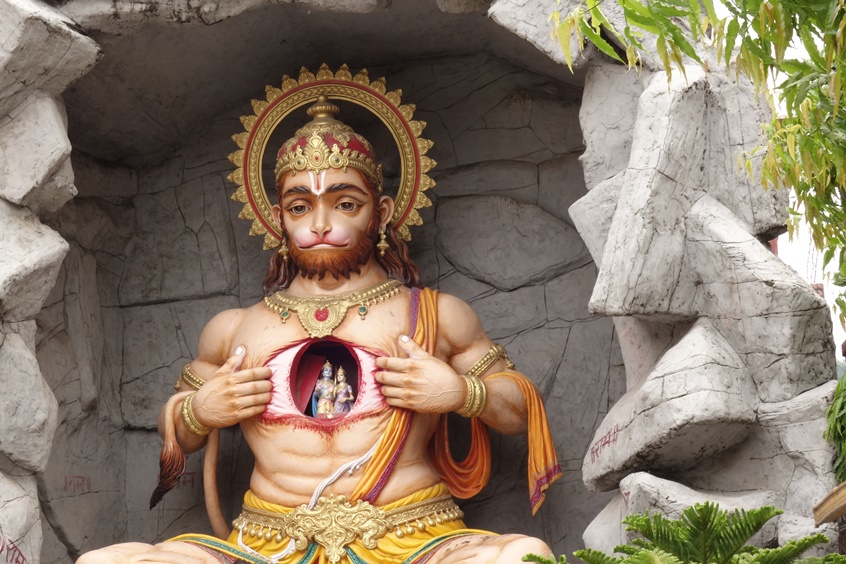 Bertrand Bellaize, 12 December 2021
Hinduism : Indian-Deity– Hanuman-the-great-heros

Hanumân, the Monkey god, is renowned for his strength (he is said to be able to lift mountains), his valour and his bravery. He is very popular in Indian villages and among wrestlers.

Hanumân is the son of the wind Vayu and Anjanâ (named then Pavan Putra: son of the wind), a beautiful apsara who had been cursed and transformed into a monkey. He is one of the great heroes of Ramâyanâ: in his war against the demon Ravana, Hanuman was Rama's most faithful ally: leader of the monkey army, he is recognized for his warrior deeds but above all for his virtues: bravery, fidelity, clairvoyance, righteousness and chastity.
Hanuman is also the incarnation of Shiva.
He is very popular in India and the monkeys who live in freedom are considered as his parents.




Hanuman : hero of Ramâyanâ or Mahâvira, the great hero

Rama (one of the incarnations of Vishnu on earth), son of king Dasharatha, was known for his bravery, his probity, his great strength and his skill: visiting the kingdom of Janaka, he succeeded in bending the sacred bow of Shiva and was thus able to marry Sita; at the same time, his brothers were also united to the royal family and in particular Lakshama (his beloved brother) to Umilâ
Having been removed from the throne by trickery, Sita and Rama lived in exile for 14 years: in the forest of Dankaka, the demoness Shûrânakhâ was violently infatuated with Rama who refused to accept her. Mad with rage, she asked for the help of her brother and then of Ravana, the powerful king of Lanka, to take revenge. By trickery, he kidnapped Sitâ.
On their way to find him, Ramâ and Lakshama met the king of the monkeys, Sugrivâ, whom they helped to regain his throne: in gratitude, he offered them all the help of his people and Hanuman was named leader of this army.
A huge battle took place in Lanka, resulting in countless deaths. Poisoned by Ravana's arrows, many monkeys would have died if Hanuman had not gone to find a medicinal plant located in the Himalayas on Mount Mahudaya, from which he brought back a whole section.
Hanuman-Bajrangbali, Who has the strength of lightning, thus also has a heart of gold.

Beyond the epic poem, the Ramâyanâ is above all a skilful means of oral transmission of Hindu teaching to the greatest number of people: captivating, it allows everyone to identify with the male and female heroes while distilling fundamental values: faith and abandonment to the divine, unconditional love, courage, strength...



Hanuman's qualities

Prodigious strength, immortality, remarkable intelligence which is revealed during numerous exploits (construction of a bridge between Tamil Nadu and Lanka...), power to fly, to transform his body (and to turn into a giant...), Hanuman's qualities are numerous and suck the envy and admiration of his numerous followers.
The Ramayana describes him as follows: "The sacred monkey is perfect; no one equals him in shastras (laws), nor in learning, nor in understanding the meaning of the scriptures, (nor in moving at leisure). It is well known that Hanuman is the ninth author of grammar.
He also embodies chastity, which would have allowed him to keep all his powers.
However, Hanuman is especially venerated for his loyalty, his service to Rama: he represents the faithful servant coupled with total uprightness and unparalleled devotion.

Chosen by warriors, soldiers, wrestlers as Ishta Devata (deity chosen by each one on a personal basis), he is also the favorite of those who cherish friendship, devotion as a fundamental value.

There are of course many temples dedicated to Hanuman throughout India.
He is honored on Tuesdays and Saturdays, presents of red fruits and vegetables are offered to him as well as saffron, unrefined whole grain sugar, rice... His color is red (energy, fire...)
Its healing power also gives it a great popularity. Many amulets containing his mantras or effigies are worn to protect against disease.




Hanuman's representations

He is sometimes totally represented as an ape, but sometimes he has the body of a man and only his head and his long white tail are reminiscent of the monkey. He is often shown kneeling, or doing the protection mudra. Standing, in the posture known as Pranam : a greeting which marks a great respect in India, the two hands are joined at chest height. Hanumân, in this posture of greeting recalls his eminently important role of faithful servant : his dignified attitude; his club which can accompany him recalls his formidable qualities of fighter, of dedication, of uprightness. The half-closed eyes (interiority) tell us that he is also of great wisdom. Standing also he can be seen tearing his chest to reveal Rama and Sita in his heart.

Panchmukhi: The great disciple In Ramâyanâ to save Rama and Lakshman, Hanuman had to kill Ahiravana who had kidnapped and hidden them from Pathala Lokha: the only way to achieve this feat was to extinguish at the same time five lamps burning in 5 different directions and which hid the life of the Devil. The way Hanuman found was to take the form of Panchkhumi.
With his five faces, 10 arms and as many attributes, he symbolizes the complete disciple The 5 faces have many meanings including: - the 5 senses, the 5 elements (sky, air, earth, fire, water): these aspects were all transcended by Hanuman during his heroic exploits in the Ramayana. - five forms of worship Hanuman then brings together the many qualities of Vishnu's avatars: knowledge / wisdom (Hayagriva), victory and absence of fear (Narashima), success, bravery, purity of mind (Hanuman), speed, omnipresence (Garuda) as well as prosperity , wealth (Varaha).
His 10 arms each carry a different attribute: sword, club, ax, vase, trident, disc, ... marking his strength and intelligence. Hanuman Panchmukhi is called upon when there is a need to face immense challenges which require many qualities and means.

The paintings also show him leaping while holding the mountain containing the medicinal plant that will heal his mortally wounded fellow warriors.




Sources
Sarah Combe - Un et Multiple – Editions Dervy
Alain Daniélou : Mythes et Dieux de l'Inde Editions Champs
Jean Chevalier Alain GheerBrant Dictionnaire des Symboles Editions Bouquins
Promenades avec les dieux de l'inde Catherine Clément Editions Points