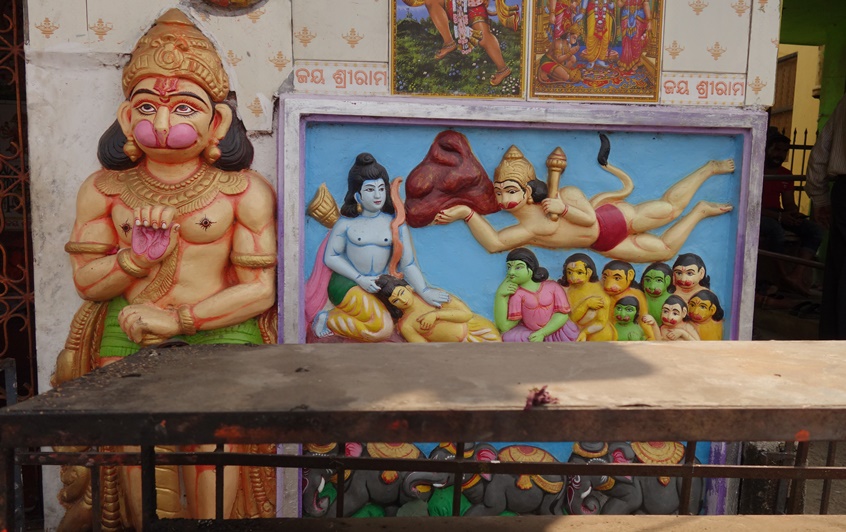 Bertrand Bellaize, 22 April 2020
Hindu sacred art: Indian statues, keys to understanding Indian statues

In addition to the postures and mudras that give at first glance a deep meaning of Hindu or Buddhist sculpture, many other aspects will help us to understand its meaning.


Clothing and ornaments of Indian statues

Does the deity wear sumptuous clothes, richly embroidered? If this is the case, its royal aspect is then put forward and by the same token its stature of authority, its ability to guide, to protect: Vishnu is very often dressed in splendid adornments which are there to inspire respect but also to amaze, to remind us of the power of the gods and their different status from Humans .

On the occasion of the many festivals and rituals that mark the life of a Hindu, the statues richly adorned with beautiful fabrics enhance the festive and happy aspect of the event; the gildings, multiple flowers, the many shimmering folds that fall in magnificent cascades, not to mention the songs, the often thunderous music, the dances of the jubilant crowd create an atmosphere conducive to celebration and meditation.



In addition, some deities wear distinctive colours, notably: blue for Shiva, Krishna..., black for Kali, red for Ganesh, pink for Brahma or Rama the green, and thus each colour has a precise meaning:

- blue: courage, the ability to see, to unravel ignorance from pure knowledge
- red: love, energy (colour of the Shakti), joy
- green: colour of the primordial waters from which life springs, festivities, hope
- rose: divine wisdom
- black: death



Some ornaments are particularly important :


- le cordon sacré (Yajnopavitâ) : dans la société hindoue, il est porté par les 3 castes principales, à savoir les brahmanes (« les prêtres »), les guerriers (Kshatryas) et les commerçants (Vaishyas). C'est un fil tressé de 3 cordons : ils représentent chacun les 3 gunas (qualités / propriétés) : de ces 3 qualités naîssent toutes choses. Rajas est l'énergie créatrice, Sattva représente l'équilibre et Tamas, la passivité, la désintégration : on retrouve ces 3 gunas dans la trimurti. Brahma symbolise Rajas, Vishnou, Sattva et Tamas, Shiva.



These three qualities of energy are everywhere intertwined: at the most subtle level as well as at the most coarse level and in varying proportions. Sometimes it is Rajas who dominates and the creative impulse is the most visible, sometimes it is Sattva and harmony reigns or it is rather Tamas and it is a period of destruction that is at work.
The wearing of this cord is the subject of a very important initiatory rite (upanaya) for young Hindu boys: at the end of this ceremony, they will be "twice born" (the second birth being of course spiritual).

The cord is always worn by the deities and it is in harmony with their outfit: if they are adorned with royal outfits, the cord will be made from luxurious fabrics, embroidered with gold or silver threads, ornamented with precious stones ... or a garland of flowers will serve as a decoration. On the other hand Shiva, ascetic, will wear a cord made from antelope skin or snakes will figure it, the same for Ganesh. As for Kali, she will wear her terrible cord of skulls!

- bustiers and belts by their size and location can also bring an additional element of meaning such as the masculine or feminine aspect of the divinity, qualities of fertility and sometimes a wrathful character if the bustier is symbolized by a snake!




The hairstyles of Indian statues

Hairstyles and headgear make it possible to distinguish the extras from the deities during group scenes. The deities of the second rank will wear a more horizontal hairstyle and a banal turban-type headgear.
Hair coiffed, straight, pulled into a bun are the prerogative of the deities in their royal, soft, benevolent, protective aspect, but as soon as the hair is in the form of bushes (Jatabhara), in the form of a flame (Jvaleakesha), they indicate the divine in its energetic, combative or even wrathful form: such as Durga killing the buffalo demon, Kali or Shiva dancing or ascetic.
Kiritamukuta is the crown worn by the major gods, high and slender in conical form, it amplifies their royal and celestial nature giving them an aspect above mere mortals.



Pedestals of Indian statues

The place where the deity rests also possesses a strong symbolism: it is the dwelling she has chosen on earth: it can be round or square or even a mixture of superimposed forms.



Geometric forms are a skillful means that was used very early on in the Vedic tradition to ensure the transmission of spiritual teaching: it is impossible to describe the absolute, which by definition has no form, no beginning and no end: only inner knowledge allows us to see it, and the sages therefore used symbols, metaphors and allegories to try to make it perceived, even if only ephemerally. The geometric forms - yantra -(in Sanskrit "instrument of mastery") are part of these means trying to express the divine principle: square, circle and triangle are for example very much used as a support for meditation notably in Buddhism (mandalas). The square means the earth, the circle, the air, the matrix, the triangle can express the feminine/water principle (downwards) or masculine/fire (upwards). The point represents the center, the origin. The combination of these forms gives the impression of movement which is the essence of reality which cannot be fixed or fixed.
Moreover the pedestal is often decorated with lotus flowers (Padmapîtha or lotus base), symbol of the womb: it symbolizes the maternal matrix (origin of life), wisdom: knowledge that leads to awakening, purity but also transformation (from a swampy environment, beauty is born), peace.

Through these different elements as well as the posture and the mudras, it is already possible to understand the message of the statue: the attributes carried by the statue as well as its mount will allow us to have an overall vision.

Sources
The Book of Hindu Imagery: Gods, Manifestations and Their Meaning : Eva Rudy Janssen
Un et multiple : Sarah Combe
Mythes et dieux de l'Inde : Alain Danielou
Petite Encyclopédie des Divinités et Symboles du Bouddhisme Tibétain, Tcheuky Sèngué