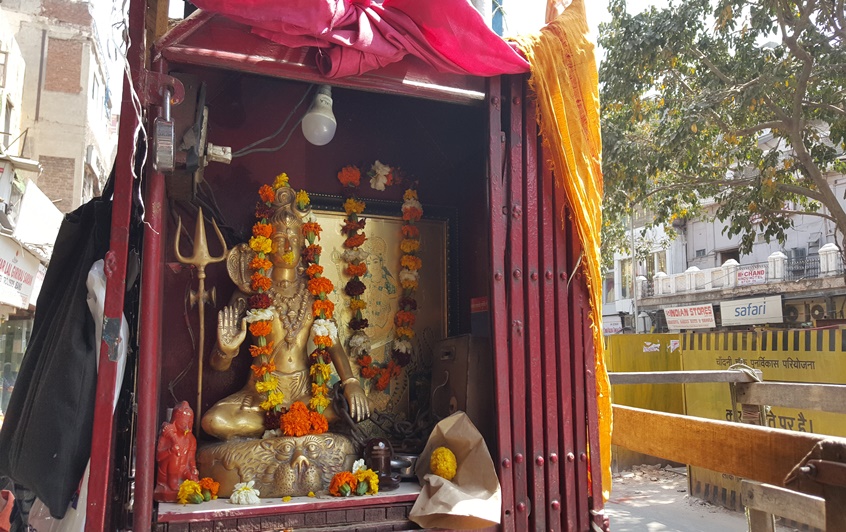 Bertrand Bellaize, 13 April 2020
Hindu sacred art: Indian statues, the meanings of mudras
Mudras or gestures involve the whole arm: elbow, hand and fingers in Hindu and Buddhist statuary art.

The postures give at first sight a very powerful indication of the meaning of an Indian statue: from the first glance, when one knows the language transmitted by the sages in Hindu sacred art, one knows the metaphysical meaning of the posture taken by the deity or deities: soothing, benevolent, combative, interiorized...


Mudras means "seal" or "sign »

The gesture of the hands will give us other precious indications and contribute to deepen the teaching given. These gestures are all the more important as deities can have up to 10 arms!

It is therefore sometimes difficult, both to decode each gesture but also to understand the overall meaning.


Yoga of the hands

In Sanskrit, Mudras can come from Mud meaning joy and 'ra' triggering or from mud, bliss and dhra, dissolution.
Mudras are very numerous, they are part of the daily practice of some Yogis (in yoga postures, or specifically in hand or finger yoga, in meditation), they are of course found in Indian classical dance and I only propose here the meaning of the most fundamental and most encountered in sculptures (there are more than 50). It is also interesting to note that these gestures can be found in many cultures and religions (see some icons, Egyptian statue postures...) which have used them for millennia.
The five fingers of the hand, in the Hindu tradition, represent the five elements of the earth:
- the thumb: fire (Agni)
- index: air (Vayu)
- the middle finger: the ether, the sky (Akash)
- the ring finger: the earth (Prithivi)
- the pinkie: water (Jala)

The mudras taken by the deities thus offer us both a spiritual message and an invitation to yogic practice.


The main Mudras

Abhaya mudra : without doubt one of the most well-known, the hand is presented palm in front, fingers up: it is the gesture of protection, of absence of fear. Existence offers us many opportunities to experience fear and during a Sadhâna, a spiritual path, every seeker will have to face many inner fears: this gesture is there to remind everyone that the divinity is present and protects us.



Atmanjali mudra Literally reverence to the Self, palm of hands joined in front of the chest, it is a gesture of veneration, of inner greeting: the two aspects that are always at work in the world of form (ying and yang, concave/convex, day/night, left/right...) are reunited in this gesture to form one, synonymous with the absolute.
If the palms are placed at the level of the forehead, it is a simple greeting to others (namaskar).



Jnana mudra literally knowledge: palm upwards in a horizontal position, thumb and index finger joined: union of the Self (the Absolute :the thumb) and the self (the Absolute incarnated in each of us : the index finger). Strong symbol of the wisdom of the divinity.

prana mudra literally energy: the ring and little fingers touch the thumb while the index and middle fingers are taut. It's an energizing mudra.

Tarjani mudra hand raised, index finger pointing to the sky: an attitude that requires vigilance, greater attention and attributed to certain divinity that guards a shrine thus signifying respect to the faithfuls. Under certain conditions, when the deities take on a terrible aspect, it is a threatening gesture, a call to order for some of the faithfuls.

Varada mudra open palm, facing down: it is the mudra of the offering, of the gift, of the blessing. Indicates that the divinity gives without counting, everything is available.



Dyana mudra or samadhi mudra both hands, elbows resting on their knees, rest one on top of the other, palm facing the sky. Attitude of total contemplation, deep meditation (usually associated with the posture of Padmâsana).



Vitarka mudra Palm towards the interlocutor, thumb and forefinger meet and form a circle: it is the divinity in its role of teacher, from master to disciple; the gesture symbolizes argumentation, explanation of the law, wisdom.

The posture, the mudras of the Hindu or Buddhist deity already bring us many elements to understand the sacred message transmitted through the statue but the transmission is also done through other signs such as attributes, mounts ...

Sources
The Book of Hindu Imagery: Gods, Manifestations and Their Meaning : Eva Rudy Janssen
Un et multiple : Sarah Combe
Mythes et dieux de l'Inde : Alain Danielou
Petite Encyclopédie des Divinités et Symboles du Bouddhisme Tibétain, Tcheuky Sèngué
Mudras, L'art de la gestuelle spirituelle, Ingrid Ramm-Bonwitt