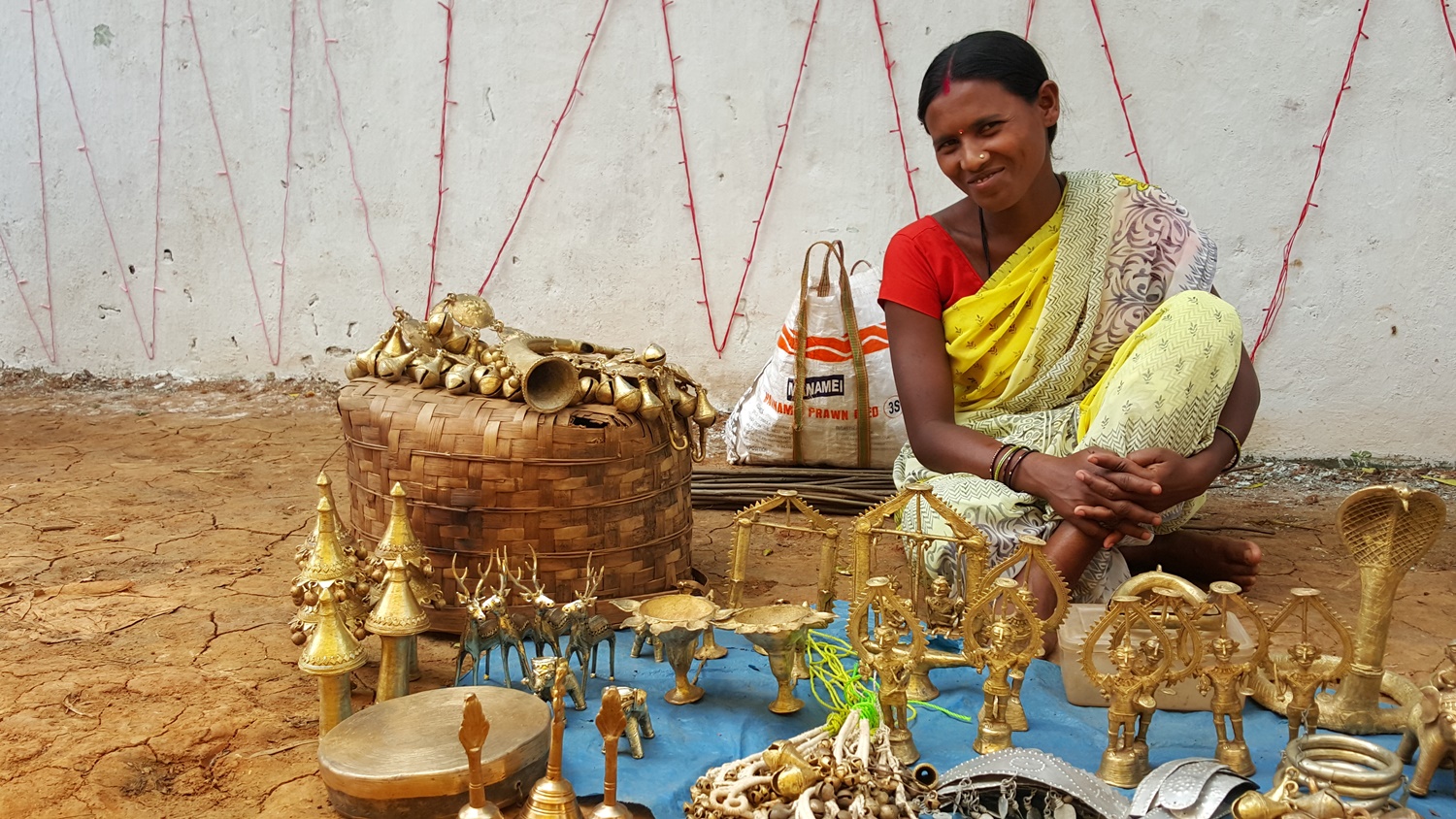 Bertrand Bellaize, 16 July 2020
Indian Sculpture: Tribal Dokhra art and daily life

This traditional art, called Dokra or Dokhra art has not changed for millennia (more than 4000 years), we find traces of it in the civilization of the Indus Valley in Mohenjo Daro, especially with the famous sculpture of a dancing woman.

The term Dokhra originally refers to a nomadic ethnic group of craftsmen from Bastar. Dhokra art is practiced by different communities such as the Situlias, Ghantaras, Thataries, Ghasis, Bathudis... who spread all over India after emigrating from the state of Chattisgarh but are mostly settled in the North-Eastern States: Odisha, West Bengal, Bihar, ...


An ancient and still very much alive art

The manufacturing method has remained traditional until today: the technique used to make brass statues is still that of lost wax.
It is fascinating to watch the Dokra artists at work: this technique requires a great deal of know-how (which is transmitted from generation to generation), great skill and dexterity.
All stages of the process are carried out by hand using rudimentary materials. (see previous blog posts)



The work is done in the family, generally outside (except during the monsoon season) under a canopy to protect from the sun: depending on the skills acquired, such will take care of harvesting the clay, crushing it, mixing it or modelling it, working with wax, to cast metal... The family is at the centre of community life.

The Dokhras are very inventive: in the past the Dokhras produced many utilitarian objects, such as kitchen utensils, coat racks, candleholders, boxes ....
However, the arrival on the market and in the trade of industrial and plastic products has strongly competed with this activity, which is no longer really profitable.

So the Dokhras have adapted: thanks to the support of certain personalities and the Indian state, Dokhra art is increasingly recognized for its artistic value.
The manufacturing industry is moving away from pure utilitarianism and is devoting itself to crafts art: although they still produce certain everyday objects as varied as candleholders, pencil pots, lanterns, nutcrackers, coat racks or tea boxes... Dokhra art, of all beauty, now focuses on aesthetic or religious themes.




A very deep connection with nature


Some statues represent everyday life: scenes from daily existence, such as a woman returning from the river with a jar or fishes, another cutting an eggplant (Brinjal) or grinding or winnowing grain, washing clothes...
It could also be a lumberjack returning from the forest with an axe on his shoulder, an archer or a couple on a swing.
Family is essential and many women are depicted with their children, often in their arms. The notion of fertility and abundance is paramount.

The Dokhras are originally animists, their link to nature is very deep even when they converted to Hinduism or adopted some of their deities. Statues representing animals are therefore very present whether domestic or wild: deer, turtle, elephant, buffalo and bull, fish, lion/tiger, horses, monkey but also birds such as peacock, owl....
Moreover, the theme of the rider is also very present as well as the elephant in parade. It can then be depicted with magnificent ornaments, decorations and harnesses that give it a majestic look.





A great dignity

Many sculptures represent portraits of women or men: either full foot, bust or head only. There is always a great dignity in these works: one can be touched directly, the forms are worked with delicacy but in an instinctive way, sometimes in a simple way without superfluous details: the artist goes to the essential. Wonder is close at hand. One feels that this art transmits a very old experience with a great spontaneity, a great freshness of expression.
The women, very present, are often adorned with their most beautiful hairstyle: the hair is pulled in a bun, they can also show a superb headdress of feathers (often peacock feathers) which give them a graceful bearing. They display their most beautiful jewels: frontal headband made of shells, silver necklaces (often coins), various and varied bracelets as well as multiple earrings (ears, nose).
Men can also adorn themselves with jewellery and feather headdresses.
The gaze is often distant, as if located in another space-time.
The Dokhras also mastered jewelry making: pendants are particularly representative of their style.




The sacred in everyday life

The sacred is an integral part of the life of the Dokhras: it is felt through their relationship with nature but also through the importance of statues of deities, representations of musicians, women and men during ceremonies.
Here again, the particular style of the Dokhras and their freedom of expression allows us to rediscover sacred Hindu art with a new look: Ganesh, Shiva, Lakshmi or Krishna, Hanuman... just as Buddha appears to us in another light: while keeping their traditional form, they take on a tribal aspect.
Moreover, a great number of animist deities (Jetku and Mikti...) are also realized and contribute to make us discover the richness of their culture and its great diversity.
The music, practised especially during ceremonies and rituals, has a particular importance which is reflected in numerous statues of musicians playing flute and trumpet, drum or cymbals and the deities, playing celestial music are not to be outdone!

Through this very rich tribal art, its sculptures, it is therefore possible to discover both a craftmanship but also to come into contact with another culture in India: a way of life in everyday life, the relationship with the sacred... It is also a way of travelling!